Books
Know God, Know Self, Know Others
A Commentary on the Craft of Living a Meaningful Life
Inspiration | Biblical Principles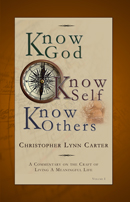 In "Know God, Know Self, Know Others", Christopher Carter leads you on an adventure of poignant self discovery, illuminating insights and inspiring illustrations for developing the craft of living a meaningful life.
To face challenges in life is human; it's how we deal with them that
makes us who we are."
~ Christopher Carter
Cinematic Book Trailer
Geese That Came To Oakwood
Chidren's | Inspiration | Faith Based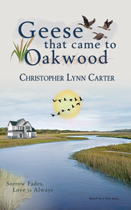 Sorrow Fades, Love is Always
"Geese That Came to Oakwood" is the delightful story of geese who come to a pond near a family's house in the woods. The forests of Oakwood are a magical place for the children who live there as they are captivated by their new found friends. Meet Katrie, Nander and Whimsy as they discover and explore their new home. Together they overcome many challenges to find joy through faith and hope in this coming of age children's tale of love and family. | For children of all ages. | 23 Color Illustrations
Forever
Adventure | Faith Based | Fiction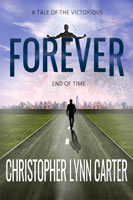 But He Must Be Released...One Last Time. ~ Rev. 20:1-3
"A Tale of the Victorious End Times"
"As the age of Millennium came to a glorious close, Eddie Falco had made some fantastic plans. He was thinking of the conclusion of his latest project and contemplating his next endeavor. Perhaps he would return to university and get another PhD. or even travel a bit and finally see the rich gardens of Mesop. What he had not considered, was that the world, would suddenly turn, upside down."
Tentative release is the fall of 2021
On Becoming A Real Parent
Inspiration | Biblical Principles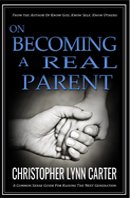 A Common Sense Guide For Raising The Next Generation
"On Becoming A Real Parent" is a must have resource for parents with children of all ages. In a world increasingly lost to adverse visual imagery, mega-technology and decadent role models, the pop-psychology of a modern era has failed three generations of American families. The parents of today are the soldiers who can pull us back from the brink armed with the one truth that must prevail.
The Autumn List
Heart Warming | Faith Based | Fiction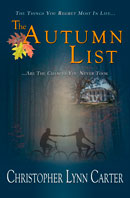 The Things You Regret Most In Life Are The Chances
You Never Took
Topher Beck is an atypical young man. In fact, some of his college professors claimed he was quite idealistic, even overly so. Of course, that could have nothing to do with why he was thinking of leaving college.
Running away is something people do sometimes, even when they themselves believe the reason is otherwise. But returning to a childhood haunt? He had to make a decision about his life direction. Perhaps this would help. But in reality, he had no earthly idea. In fact, what he was about to encounter was the furthest thing from his mind.
Scheduled release to be announced
The Legend Of Evil
Techno thriller | Fiction: ISBN 9-780972-342704.
A Man In Every Generation, In Any Time
Tornadic super-cells are violent, twisted and unpredictable. Controlling them is impossible… or is it? Doctoral candidate Sarah Gately chases them to find out. But her quiet hometown of Melville Texas is being rocked by a string of unexplained deaths. Is there a connection? Sarah presses forward with her own investigation, driven by her curiosity as a scientific researcher and a deep personal loss. She leverages the meteorological resources of Provine University, her companion Jonathan Baxter, and her father, Dr. E.G. Gately, former Chancellor of The School of Atmospheric Sciences, to uncover the truth about what's really happening in Melville. Enter the FBI, unusual activity at Hampton farm, and the loss of one of her closest friends. Sarah is being "Stalked" as a macabre reality unravels while she ties the ends together. Tornado chases, bizarre revelations and atmospheric phenomenon follow. The facts regarding Melville begin to converge, pointing to one inevitable conclusion.
In "The Legend Of Evil", Christopher Carter taps the power of human imagination while exploring heart pounding possibilities in this electrifying techno-thriller.
Coming soon...
A Time Too Far
Techno thriller | Fiction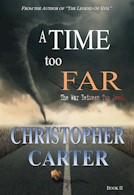 The War Between Two Seeds
The sequel to "The Legend Of Evil". It's five years after Sarah's heroing encounter. She's married, settled and has two children. Things are about to change.
Coming soon...